Research future opportunities from one of the Top 15 Masters Programs in Clinical Research.
Clinical Research may be a broad term, but under its umbrella rests some of the most vital players in the healthcare industry. Regulatory affairs or clinical research professionals play significant roles in the development and advancement of medical products. While these "medical scientists" are most commonly associated with hospitals or labs, a majority choose to work for some of the biggest companies and agencies in the country.
From pharmaceutical companies like Johnson & Johnson to biomedical device firms such Medtronic Inc., the industry is expanding. In 2013, a record $85 billion was invested in medicines and medical device research in the United States. Now, it is estimated that over 50,000 qualified clinical investigators are currently needed just for industry-sponsored drug development. In addition, New Jersey is also home to 300 biotechnology companies, and 20 pharmaceutical and medical technology firms.
As a result of both the industry's estimated 25-35 percent growth rate across the country and technology's rapid advancements, there's an increase in demand for individuals with graduate-level training.
Online Social Work Programs For You
How to Choose a Clinical Research Master's Program
With a Master's in Clinical Research studies, those who aspire to have leadership roles in laboratory sciences can gain the knowledge necessary to launch their way to the top by learning how to properly engage in the design, manufacturing, and testing of medical products. There are a number of professional careers for clinical researchers in colleges and universities as well. Now is the time to start building those connections.
The following list of schools represents the 10 Best Master's programs for Clinical Research in the U.S.
While the program concentrations range from Product Development to Translational Management, each school aims to provide students with extensive knowledge in medical research studies. Through these programs, Clinical Research graduate students will gain competence in design and evaluation of human clinical trials, learn how medical device products affect the human body, and how to conduct ethical research.
With part-time and online options, as well as dual-degree offerings, the goal is to have student emerge from these Master's programs better qualified for careers in diagnostic and clinical services, pathology, laboratory research, and other medical technology jobs.
Methodology
Social Work Degree Guide is here to help you find the perfect program for you. We factor in Student Satisfaction and Affordability as our primary metrics, at 30 percent of the total ranking each. From there Alumni Salaries, SAT Scores, and the school's retention rate each represent 10 percent.
#15
Saint Cloud State University
Applied Clinical Research M.S.

Website
Tuition: $13,582
Score: 70.48
All courses for Saint Cloud's Applied Clinical Research Master's are taught by seasoned managers and technical experts with 15-30 years of experience. More than 75 percent of the program's instructors are executive or senior management-level leaders in the field. The program is available on both a full-time and a part-time basis with a Graduate Certificate also at students' disposal. While some classes are available online, most courses are offered weekday evenings and Saturday mornings, to cater to work schedules. This is the only clinical research program in the United States that pays special attention to medical devices. The University hosts an annual medtech networking and job fair, which is the largest of its kind and features 15-20 medtech industry companies. Graduates of this program have gone on to work at public and private medical device companies, contract research organizations and hospital systems.
#14
University of Texas Rio Grande Valley
Master of Science in Health Sciences in Clinical Laboratory Sciences Online

Website
Tuition: $4,432
Score: 71.30
The University of Texas Rio Grande Valley's Health Sciences Master's program focuses primarily on management and leadership in laboratory medicine. This 36-credit Master's program is 100 percent online and usually takes about 12 months to complete. This is an accelerated program, meant to prepare students for middle management in hospital or reference laboratories. Graduates have also pursued consulting positions in private labs or physician office labs, as well as teaching positions for medical laboratories in universities and hospitals. Some of the core curriculum classes include Health Computer Information Systems, Health Care Policy Organization and Financing, Legal and Ethical Issues in Health Care, and Professional Proposal Writing.
#13
University of Vermont
Clinical and Translational Science (CTS) M.S.

Website
Tuition: $17,816
Score: 72.08
At the University of Vermont's Clinical and Translational Science Master's program, students have the option to choose between one of two specific tracks: Investigation or Research Management. The concentration in Investigation is designed to transform a wide array of doctoral-level professionals into successful independent clinical and translational science investigators. The University's concentration in Research Management is meant for individuals who have an interest in becoming research coordinators, patient advocates, research administrators, study nurses and other science professionals. For both concentrations, a doctoral science related four-year degree from an accredited college is required.
While both tracks are 31-credit degrees, there's a slight difference regarding graduation requirements. The Master's in CTS Investigation requires that individuals participate in the weekly Seminar in CTS, pass a comprehensive exam, and successfully defend a thesis. The Research Management track also requires student participation in the Seminar in CTS and successful passing of a comprehensive exam, but no thesis is necessary.
#12
University of California San Diego
Master's Degree Program in Clinical Research

Website
Tuition: $14,770
Score: 72.49
This graduate program through the University of California-San Diego is more suited for working professionals in the early to mid-stages of their careers. The broad-based, interactive curriculum covers the principles of epidemiology, biostatistics, patient-oriented research, health services and outcomes research, applied quantitative analysis, and more. There is also an integrative, high-level clinical research project every student must complete in their final term. UCSD's Master's program consists of 40 quarter units of study. Coursework can be completed in 12, 18, or 24 months, depending on which Pace of Study is the best fit for the student. Students do have the option to enter the program in July, the summer's quarter. Classes are usually held in the later afternoons for the sake of flexibility. For this degree, students will primarily learn how to analyze a clinical problem, including its relevant epidemiology, pathophysiology, and current therapy.
#11
University of St. Thomas
Masters in Clinical Translation Management (MCTM)

Website
Tuition: $21,517
Score: 73.63
St. Thomas' Clinical Master's program is primarily online, with less than 12 face-to-face class sessions. The goal of the program is to help students integrate the most important concepts in the science and business fields. By graduation, students should be well-conditioned to apply this knew knowledge to the biotech industry. The MCTM program was developed in collaboration with Houston Methodist Research Institute, which provides technology support to bring cures through all stages of medical research and to patients around the world. This partnership allows St. Thomas to offer MCMT students the opportunity to observe and practice what they learn in the classroom in a notable research facility. The program's coursework covers marketing, financial management and ethics issues, all for clinical translation. Every student is also required to complete a final project. Recent graduate projects for the Master's program have included liver transplant assessments, developing wearable brain stimulators, and targeted lymphoma imaging.
#10
Boston University
Masters in Medical Sciences (MAMS)

Website
Tuition: $31,539
Score: 74.73
Boston University's Master's in Medical Sciences program is reportedly one of the oldest specialised master's programs in the United States. MAMS was founded in 1985 and since then has helped over 2,000 students gain admission to U.S. medical schools. This is a 32-credit program that can be completed in one or two years, with all classes starting in September. Boston's Master's program is made up of two semesters of foundational course work and two semesters of laboratory or library research, all supervised by leading professionals. Students complete the program with an end thesis. This laboratory or literature-based thesis is required for graduation and many students elect to complete the program in two years, dedicating their second year to gaining research experience. Not only do students have the chance to hone their skills in medical sciences, but they can also choose to indulge their interests in Public Health, Mental Health Counseling and Behavioral Medicine, or Clinical Research by entering the University's dual degree or concentration program.
#9
Regis College
Regulatory and Clinical Research Management (RCRM) M.S.

Website
Tuition: $27,777
Score: 74.98
Students at Regis' Regulatory and Clinical Research Management M.S. can choose from two specialty tracks: Regulatory Affairs and Clinical Research Management. At this Massachusetts college, graduates can finish their Clinical Master's in 16 months, full-time. With flexible formats, including real-time virtual classroom, the program caters to students' busy schedules by combining online and on-campus learning. The school's close proximity to Boston has attracted industry-active faculty who bring practical application to the classroom. Every student is required to complete a practicum before graduation. Past practicum placements have included Nova Biomedical, Tesaro Pharmaceuticals, and Takeda Pharmaceuticals. Regis also offers Graduate Certificates in Health Informatics and Clinical Research Management. Core curriculum courses include Health, Ethics and Law, Biostatistics, and Health Product Regulation.
#8
Fairleigh Dickinson University, Florham
Health Science (MHS)

Website
Tuition: $25,257
Score: 75.40
Fairleigh's Master of Health Science program is a 31-credit interdisciplinary program, blending together online and face-to-face classes. It typically takes students a year to complete. The MHS faculty hail from various medical science backgrounds, including biological and allied health, as well as chemistry and pharmaceutical sciences. Based on their career interests and professional goals, students can choose one of four tracks: Gateway to Professional Studies, Clinical Research Administration, Regulatory Science and Health Informatics. The Professional Studies is designed for students who have a biochemistry background seeking careers in the pharmaceutical field. The Clinical Research track teaches students how to analyze data and interpret medical literature. Regulatory Science is aimed at those who are seeking careers in government agencies, and the Health Informatics route caters to aspiring medication therapists.
#7
University of North Texas
Clinical Research Management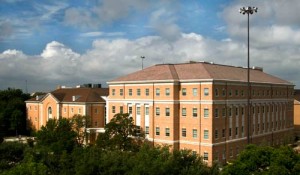 Website
Tuition: $10,424
Score: 80.66
The 49-credit Clinical Research Management Master's program at North Texas follows a strict two year plan. Beginning their degree education in the summer, student's curriculum begins with Biostatistics and an Introduction to Biochemistry. The following fall and spring, graduates are immersed in Integrative Biomedical Sciences and Clinical Research Ethics. The second year in the program is all dedicated to the laboratory internship practicum. Students will complete a six-month unpaid internship at a site previously approved by the graduate school. During their internships, students will learn how to perform the duties expected of particular positions in clinical research centers such as hospitals, pharmaceutical or medical device companies, clinical research organizations or site management organizations. At the end of the practicum, the student must submit an internship report to his or her program mentor.
#6
Eastern Michigan University
Master of Science in Clinical Research Administration (CRAD)

Website
Tuition: $14,268
Score: 80.90
The mission of Eastern Michigan University's Clinical Research Administration Program is twofold. First, the program aims to provide a hands-on academic experience to provide qualified new personnel to the drug development industry. The CRAD Master's also hopes to provide an opportunity for professionals currently working in the drug and device development industry to increase their knowledge base and research skills. To do this, EMU has created two Master's programs which go hand-in-hand. The Post-Baccalaureate Certificate in Clinical Research Administration is made up of four courses, focusing on the drug development process, good clinical practice, federal regulations, clinical research protocol, and more. The Master's degree is designed for individuals who are already employed or credentialed in the medicines and research development field. In addition to the four required courses in the certificate program, students are also required to complete a select amount of program electives, cognate electives and finish a final project or thesis. This amounts is a total of 34-35 degree hours.
#5
University of North Carolina Wilmington
Clinical Research and Product Development M.S.

Website
Tuition: $16,218
Score: 83.44
The University of North Carolina Wilmington's Clinical Research Master's offers two concentrations for their program: Clinical Research Management and Regulatory Affairs and Compliance. The M.S. in Clinical Research and Product Development provides a rigorous curriculum, structured to prepare students to excel in their future careers developing health care products and protocols. Some courses for the two possible tracks include Advanced Pharmacoeconomics, Medical Chemistry, Transcultural Health Care, and Current Issues in Global Regulatory Development. Focusing especially on clinical research in regards to biopharmaceutical products development, the Master's program is offered entirely online. This in turn allows students the option to pursue their degree from any location with internet access. Included in the 36 credit hours is the final research project and thesis.
#4 University of Virginia
Master of Science in Clinical Research (MS-CR)

Tuition: $15,945
Score: 84.24
The University of Virginia's Clinical Research Master's program specialises in training health and medical professionals with proficient experience who wish to develop analytical skills in patient-oriented and translational research. Using a blend of biostatistics, epidemiology, clinical trial design, medical informatics, and health services research, the MS-CR program covers a 31-credit curriculum. In addition to their core courses and specialized coursework, students will also complete a final independent research project, co-mentored by a PHS faculty member and the student's research advisor. Since being founded in 1997, the MS-CR program has graduated over 150 students, most of whom were physicians in training. Graduate students also have the option to do a dual MD – MS Clinical Research Program, which allows medical students to earn both degrees in five years.
#3
Ohio State University
Master of Applied Clinical and Preclinical Research (MACPR)


Website
Tuition: $17,971
Score: 85.27
This interdisciplinary degree is offered entirely online. The program aims to produce graduates qualified to meet the increasing demand for clinical researchers. The program is designed for prospective regulatory specialists, administrators, or researchers. Renowned faculty teach the two interdisciplinary specializations: Clinical Research Management and Regulatory Affairs. The program meets the core competency requirements set by the Consortium of Academic Programs in Clinical Research.
#2
University of North Carolina at Chapel Hill
Master of Science in Clinical Research (MSCR)

Website
Tuition: $10,077
Score: 86.34
Each year 1,620 students are enrolled in the University of North Carolina Chapel Hill's MSCR. The Master's program emphasizes study design, data analysis, and proposal development by collaborating with methodologists and biostatisticians. The MSCR is jointly sponsored by the TraCS (North Carolina Translational and Clinical Sciences) Institute. Over the course of two years, students will take a cumulative 36 credits to earn their degree. In order to be eligible for enrollment, students must hold a doctoral-level professional degree or have extensive health-professional experience. Alumni from this program have gone on to pursue careers as Health Informatics Specialists, Consumer Health Directors, Occupational Epidemiologists, Mental Health Research Scientists and more.
#1
Arizona State University
Clinical Research Management M.S.

Website
Tuition: $13,007
Score: 100
The Arizona State University Clinical Research Management Master's is fully accredited by The Commission on Accreditation of Allied Health Education Programs. The CAAHEP is accredited by the Council for Higher Education and is reportedly one of the largest Master's programs internationally to be so highly recognised. This degree program offers a trans-disciplinary approach to education in clinical studies, focusing on ethical research and the operations management of pharmaceutical, biological, and medical devices. Students accepted into this program will study new drugs and vaccines, learn data management and study global clinical trials. In addition to the core curriculum, students will take restricted electives and complete a Capstone Management Project. Some of the program's foundational classes include Fundamentals of Regulatory Affairs, Clinical Research Operations, and Scientific and Research Review Boards.